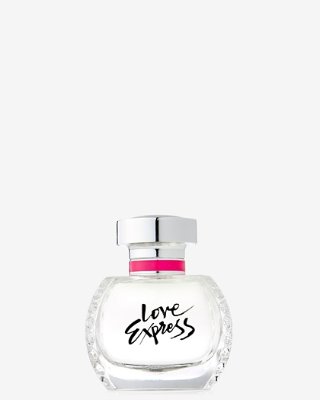 I am not exactly a huge fan of most department store perfumes. A lot of times they're either too sweet or too strong. However every now and then one comes along that I really like. Right now I really have a thing for Love Express from EXPRESS!

On Express.com this fragrance is described as Glamorous, Playful, Iconic, and Sexy. I'd have to agree on all points. Love Express is their first ever fragrance for women, and they're off to a good start. Unlike some fashion brand fragrances that may smell like they were targeted towards teenage girls, Love Express manages to project strength, and confidence, while still remaining feminine.

Inspired by Express style, fashion swank, and larger than life glamour, Love Express is all grown up in a very refreshing way. Notes of Blackberry, Lily of the Valley, Tiare Blossoms and Sheer Vanilla Musk give Love Express its distinct scent.
I also love the bottle design. I've always said that simplicity is excellence when Excellence meets simplicity. Love Express is bottled exclusively by Express and Made in the USA, and the all American design is simply perfect.
Love Express is available by visiting: Express.com. There are two bottle sizes available. $44.90 gets you the 1.7 oz bottle. $59.90 gets you 3.4 oz. Although this fragrance is highly rated by customers on Express.com it might still be a better idea to start with the 1.7 oz bottle first. But if you've already sampled this fragrance, then the 3.4 0z bottle is a tremendous value.
"Fashion Is Foremost Inspiration"
-Melany-