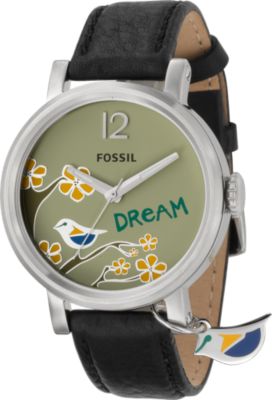 Dreaming of an inspirational Timepiece? Enter this masterful:
Analog Green Dial Watch by Fossil!
A thoughtful message enhanced with a colorful charm and a black leather strap. It's the watch you dream about. Because watches fit differently on everyone refer to the guide below when buying your time pieces.
THINGS TO REMEMBER ABOUT FIT:
• Fossil's watches are made from a variety of different materials. Each one will feel different on your wrist.
• When considering the overall weight of your watch, remember that a stainless steel bracelet is heavier than a leather or silicon strap.
• If you plan to wear your watch with a dress shirt that has moderate size cuffs, you'll probably want a smaller watch size.
• As far as case thickness goes, 6-8 mm is considered thin, 8-12 mm is average, 12-14 mm is full size, and 14-18 mm is considered thick.
"Fashion Is Foremost Inspiration"
Melany