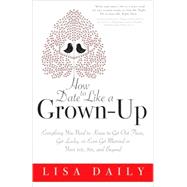 By the time you hit forty, you have a pretty good idea of what you want when it comes to dating, love, and romance. But how do you get it? HOW TO DATE LIKE A GROWN-UP
will tell you everything you need to know to find the love you''re looking for (even after a long marriage or other dating hiatus), how to get married (if that''s what you''re after), or how to just get lucky. Watch the video below then "Click Here"
to read: How to Date Like a Grown-Up- Everything You Need to Know to Get Out There, Get Lucky, or Even Get Married in Your 40s, 50s, and Beyond.
"Fashion Is Foremost Inspiration"
Lisa