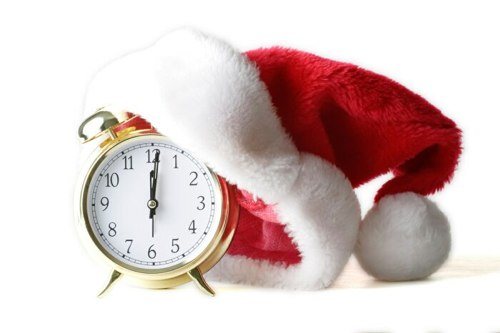 Its the day before Christmas and you're still not done with your shopping and money is running low - what do you do exactly?!?!
Have no fear, fashionwithfifi.com is here to the rescue. First thing's first: go through your list and highlight the names who must receive their presents tomorrow. Don't worry if you can't shop for everyone today because the real sales take place after Christmas.


Now that you know who you're shopping for, let us help you find the perfect last minute gifts (for women on a budget) - all under $100.
1. The Gift of Comfort
Just hit snooze! Warm flannel in an array of classic patterns make these the PJs you've been dreaming about. Retailing at $29.50, This PJ set features a button-front top with twill-trim coordinating drawstring bottoms.

2. The Gift of Warmth
Don't entangle yourself in long, knotty scarves anymore - simplify your winter accessories with this cuddly neck warmer! This Marled cable knit scarf
features supersoft cable knits with tassels at ends and warms up to your form: saving you from any cold chills that might be trying to seep into your clothes. For only $19.99 at Gap.com, its perfectly versatile for any winter coat. Style this with knee-high boots and a sweet sweater for a cozy, cute look! A chunky cable knit keeps this scarf supersoft and folksy--the perfect formula for cozy winter style.
3. The Gift of Good Food
World famous for their premium meats, Stew Leonard's offers some of the juiciest, most flavorful meats you can find. Choose from among our famous fork-tender filet mignons, delicious smoked turkey, or honey-glazed spiral ham. Their premium meats are simply delicious - your satisfaction is guaranteed. Give the gift of Stew Leonard's Gift Baskets
this holiday season.
A wonderful treat for large or small gatherings, this delicately cured and smoked turkey is cooked to perfection. Plump, tender and moist, this bird is ready to eat cold or served warm for fine dining. It's absolutely a gourmet treat! This gift set includes one delicious whole smoked turkey. Each turkey weighs between 9 and 11 lbs. Shipped Frozen.. Net wt. 9-11 lbs

The Stew Leonard's Spiral Cut Ham is fully cooked and ready to eat. It has been lightly glazed with cane sugar, ground cloves and honey for a sweet, delicious flavor. Their hams are slow smoked with a special blend of hardwoods, honey-glazed to tantalize your mouth and awaken your senses. From your first taste to your last bite, you'll know there is nothing better than a Stew Leonard's ham. Great for entertaining and easy to serve.

Stew Leonard's is well-known for its fresh and delicious filet mignons. Their Filet Mignons are some of the leanest of all the premium steak cuts. Cut from the center of the tenderloin, they have a robust flavor and buttery melt-in-your-mouth fork tender texture. Discover why customers come from all over New England to buy their fresh filet mignons. Each steak is approximately 2" thick. Their filets are shipped FRESH not frozen so the shipping method available is Next Business Day. Each gift box contains four (4) delicious and tender filet mignons (6 oz each). Fresh not frozen.. Net wt. 1 lb 8oz
4. The Gift of Gabb
The
DROID ERIS by HTC
for Verizon Wireless combines performance, functionality and customization in a sleek, touch screen smartphone. Running Google's Android operating system and HTC Sense, the
DROID ERIS
is intuitive and integrates programs and apps seamlessly. For example, the GPS is used not only for mapping but also geo-tagging photos, local searches, social networking and more. Snap a photo or record a video with the advanced 5.0 megapixel camera, and then easily upload your images to your
favorite sites with notes and geo-tags. Or send images via multimedia messaging or email to all your friends using the universal phonebook that draws your friends contact information from existing address books and Facebook. Your favorite Google, HTC, and social networking apps are pre-installed, and thousands more are available to download from the Android Market. The
DROID ERIS
is one smart smartphone that will take customization to a whole new level.

- Bright 3.2" Touch Screen Display For Easily Watching Videos, Surfing The Web and Checking Emails
- Thousands Of Applications (Apps) and Hundreds Of Widgets Available From The Android Market
- Fully Integrated Social Networking- Even Set Facebook Profile Photos As Caller ID
- Fully Customizable Experience To Suit Your Needs Every Day Or Mood
- Advanced 5 Megapixel Camera/ Camcorder Is Integrated With GPS, Social Networks, and More - Your Favorite Google Apps Pre-installed - GTalk, Google Maps, Gmail, Etc.
- Amazing 7 Customizable Home Screens For Each HTC Scene Saved
- Support For Fast 3G Speeds and WiFi (Hotspots)What's In The Box

5. The Gift of Glitz

No matter what approach you take when examining this set of bangles, you will, time after time, arrive at the same conclusion - they're impeccable! This
Stackable Bangle Set
from Charlotte Russe features twenty-one stackable bangles including three with rhinestones for only $7.50! These bangles look great from every point of view. Encircle your wrists with their wonderfulness when you wear a white tee, colorful cardi, and boy friend jeans.
6. The Gift of Glamour

This amazing City of Lights Holiday Collection
set by Cargo Cosmetics has all the essentials to get you party perfect including Paris eyeshadow palette, Boogie Nights eye pencil, face and Body sparkle and Tijuana lip gloss quad.
All the items in this gift set complement each other completely. The sparkle for face and body is fun to use, and the eye shadow collection works together beautifully. The Tijuana lip gloss quad has the yummiest color combination and works well with lipstick or alone. The silver, glitter eye liner is great with the eye shadow and very easy to use. A $90 value: yours for only $30 at Ulta.com.
Have a safe and festive holiday!
"Fashion Is Foremost Inspiration"
Suzanna