Every year around this time we start looking at shops and magazines and realize which is the trendiest color for all the holiday parties. Of course black is always popular, either because women love their little black dresses (LBDs) so much or simply because they couldn't make up their mind on what to wear. However, if you ask me, a party where everyone is dressed in black is very depressing no matter how glamorous all the outfits are. That is exactly why color is so welcome!
This year's color is definitely silver. Metallic colors are festive and attention grabbing but should be used with caution. We all have seen the metallic lurex overalls, leggings and jackets that were popular back in the 80's…




Head to toe silver can be a little overpowering but you a darker shade can be easier to pull out. This Charlotte Russe Studded Satin Dress
is dark silver and has the oh-so-this-season studds. Though I think it's really pretty, it's shape is not forgiving on the stomach area. If you aren't in top shape, bet on very good undergarments. The dress is pretty enough but if you pair it with the Kanata Heel in Magenta
you'll be the queen of the party. They add just the right amount of colour and besides being beautiful and covered in sequins, the said sequins are reversible so when you run your hand through them and make them turn towards your heel they turn silver. I just can't get over how awesome they are! Since the dress is only $36,99, you can spend a little more on the shoes (which retail for $189.99) Soft makeup, really simple hair and a basic black clutch or wristlet would complete the look. If you want, you can wear a bracelet but keep your accessories quiet and let the shoes do all the talking.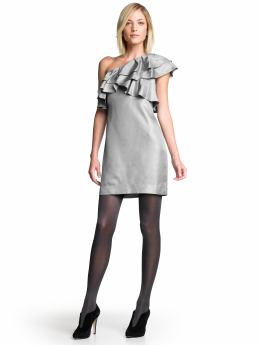 If you are confident, then go all
out and be bold. One shoulder dresses and tops were big the past seasons and if you're not cold you can still wear them thoughout the holidays. As an example, here's an Asymmetrical ruffle dress in Silver gray
This mini dress is made out of silk so you can bet it feels luxurious. The cascade on the left shoulder is sweet while the bare shoulder is unquestionably sexy. Of course it's pretty short so your legs will be on display as well so be sure to either wear tights or make sure they are in top shape, exfoliating and moisturizing them. I'd recommend black shoes with this one because they are less "flashy" but make sure they are high heels to flatter your leg's shape and that they don't have an ankle strap so they don't make you look shorter. Add on silver bangles or a pretty bracelet and you're ready. If you want to include silver in your makeup, a good way of doing so is applying a neutral highlight on your brow bone, a shimmery (not sparkly or glittery) medium silver shade all over your lid and then smudging charcoal, navy blue or black pencil eyeliner on your upper and lower lash line. Blend the eyeliner up and make it higher on the outer corner, making sure you didn't blend too close to the crease. For a special occasion follow with some false lashes or multiple coats of mascara and a soft pink lipstick topped with pretty high-shine lipgloss.


Speaking of ruffles, most girly girls like ruffles so there isn't a reason why t
hey shouldn't get to wear them. Plus size ladies shouldn't wear styles that create more volume, that's for sure, but if you can find ruffles that are longer in order not to create more volume, you can and should wear them if you like the look. This particular dress (which retails for $79.90 and is the Avenue Plus Size Shimmer Tiered Party Dress
) will suit you if you're a little bigger on the hips because the ruffles from the waist up are smaller and looser, thus creating the illusion of a bigger bust. On the other hand, the ruffles from the waist down are larger and fall more, slimming the lower body in comparison. Also, the neckline has a beaded trimming, which directs the gaze toward the chest and the dress is not to too short, not making wider hips more noticeable. All comes together to make your figure more balanced. I'd pair this dress with simple and classy shoes on any colour of the rainbow you prefer. A good option would be these red ones (I bet you were wondering when they'd come. After all, there's no good "Micky's Guide" without at least one pair of red shoes, is there?). They are the Nightlife Heel in Red
and the name says it all. They are 4-inch, satin, open toes, sling back stilettos. Sexy and classy for $39.99.


If your skin tone has very yellow undertones (for example, if you have olive skin), silver might not be the color for you since it can reflect on your face and make you look washed out and a little sick. In that case, go for jewel tone dresses or outfits (sapphire blue, amethyst purple, ruby red, emerald green and so on) and accessorize with silver, but remember to not use chunky silvery jewellery near your face since it will defeat the purpose of not wearing a silver dress or shirt. Instead, go for shoes, purses and/or bracelets. If you're not sure if silver is right for you or not, go to a store and grab something in that color. Get it very close to your face and try to go somewhere on the store where they have lights coming from above and reflecting on the material. If you look very pale or sick, then you'll know what's happening.



Fashion Is Foremost Inspiration
Micky