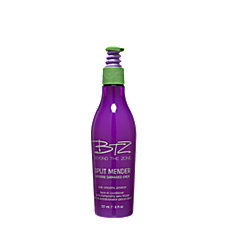 Mend your split ends with Beyond The Zone Split Mender
. This leave-in conditioner soothes broken, brittle hair minimizing the appearance of split ends. Eliminating frizz without leaving a heavy, oily build-up. Beyond The Zone Split Mender
leaves hair smooth and soft. Repair and protect your hair with this incredible leave-in conditioner.


• Repairs damaged hair
• Seals, smoothes and protects
• No greasy build-up
• Leaves hair soft and smooth
• Eliminates frizz
• Minimizes split ends


For best results use with a moisturizing shampoo. Use on wet or dry hair. Apply to tips for split-ends or all over hair as a leave-in conditioner & protector.


A 8 oz bottle usually retails for only $6.49, but now you can save $3 on any 2 Beyond The Zone products - only at SallyBeauty.com.