In FAT FLUSH FOR LIFE, award-winning nutritionist Ann Louise Gittleman reveals the healthiest and most effective route to permanent weight loss and overall wellness. Her seasonal approach nourishes and detoxifies the body utilizing a revolutionary understanding of science and holistic health. Watch the video then click below to read:
Fat Flush For Life.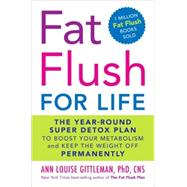 With millions of followers nationwide, award-winning nutrition expert Ann Louise Gittleman has revolutionized dieting, helping people melt away fat through detoxifying one's body. Now she reveals the brand new secrets of Fat Flush for Life: the first long-term Fat Flush plan for increased metabolism and permanent weight loss. Fat Flush for Life helps you detoxify your liver and lymphatic system to get rid of bloat and cellulite. It provides your body with the right balance of phytonutrients through cleansing beverages and foods high in slimming fats, quality proteins, and "clean" carbs. Additionally, the book offers a vegetarian regimen, a year-round wellness guide, and a five-day "hot metabolism booster" to break through plateaus. These concepts, created in response to Gittleman-devotees' real-life challenges, take weight loss to the next level. Complete with meal plans, fitness tips, and motivational success stories, Gittleman's Fat Flush for Life is the most comprehensive, effective, and nutritionally sound method to achieve a healthy weight. Ann Louise Gittleman, PhD, CNS, named one of the top ten nutritionists in the country by Self magazine, holds degrees in holistic health and nutrition education. She lives in Idaho.
"Fashion Is Foremost Inspiration"
Celeste