Now that you've seen what Audra and Nicole have to say it's your turn to weigh in. Tell us; have you ever dated or known a MR. All Wrong? Ladies you know what I mean. Was he a big talker, with a smooth game, but no substance? Was he a habitual liar who you often caught in ridiculous lies? When you started dating him, did he conveniently forget to mention that he was married or had kids? Well if this is all starting to sound like a person you know then Fashionwithfifi.com wants to hear all about it. Tell us about your run in with MR. Wrong and you're entered to win a copy of Cathy Middleton's new book: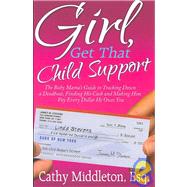 Girl, Get That Child Support: The Baby Mama's Guide to Tracking Down a Deadbeat, Finding His Cash and Making Him Pay Every Dollar He Owes You
This book is an all out guide for every woman who's ever been scorned by at a deadbeat. The book's subtitle is already long, but it's worth tying in the secondary subtitle- GET HIS MONEY BEFORE HIS OTHER BABY MAMA DOES:
Whether or not you've ever been in those circumstances, this book helps every woman with simple dilligence. It covers everything from agreements in writing to: Proving he's the father of your baby, Tracking down a deadbeat, Winning an increase in your current award, Getting money from an unemployed baby daddy, Creating an agreement with terms that benefit you, Getting other assistance from him along with your child support award.
Official Rules:
1) To enter you must first be a Free Subscriber. If you aren't already a subscriber Click Here to join for free.
2) Tell us about your run in with Mr. Wrong. Leave a comment below outling the details of your experience. It's ok to comment on posts left by other subscribers as long as your respectful.
3) One winner will be selected at random to Win a free copy of Girl, Get That Child Support.
4) Contest runs from Today, January 5, 2010 through midnight January 15, 2010.
5) Winner will be announced the following Day January 16, 2010 on Fashionwithfifi.com.
6) Shipping is Free to all subscribers living in the U.S. International subscribers will recieve an Ebook version.
"Fashion Is Foremost Inspiration"
Celeste