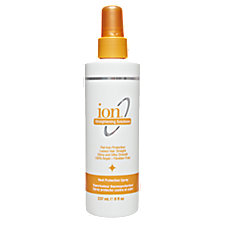 Curling Irons, Hot Combs and blow dryers can do a number on your hair. One simple and inexpensive solution is the: Ion Heat Protection Thermal Spray!
Ion Heat Protection helps protect hair from the damaging effects of flat irons, curling irons and dryers. The Ion Heat Protector
is thermal defense that locks in moisture and provides manageability prior to heat styling. Optimizes the effectiveness of flat irons, curling irons, and hair dryers and provides outstanding heat protection while adding body and shine.

How To Use:
Mist onto damp hair to protect from blow dryer damage. When styling with a flat or curling iron, spray lightly on small sections of dry hair prior to use.

Key Benefits:
•Helps straighten and smooth the hair
•Helps protect hair from heat appliance damage
•Helps to maintain straight styles
•Lightweight
•Provides gentle slip for effortless heat styling
•Leaves hair silky and shiny

Savings Coupon:
Right now save $5 of orders $25 or more by using: Promo Code 555942
exclusively at Sallybeautysupply.com!
"Fashion Is Foremost Inspiration"
Celeste