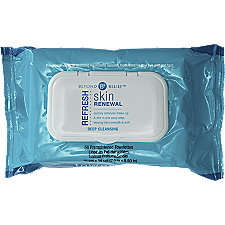 You might have heard me say this time and time again, but I'm about to say it once more: "Not taking your makeup off at the end of the day is as bad for your skin as going out to the beach at high noon without sunscreen!"
However dire that makeup warning may sound, there are still women out there that still make that mistake. Look I understand, we all work hard and sometimes when we get home, that's like going to our second job. A working woman's life is so full and high stress nowadays, its possible to get so burned out that even washing your face, can become a choir.
If any of this is sounding like you, then I have a solution that will help. You'll want to have Makeup Remover Towelettes handy. One that I trust is the Beyond Belief Facial Cleansing and Makeup Remover Towelettes.
When using these towelettes to remove makeup, take special care to ensure that there is no mascara on your lashes. Removing mascara from your lashes is the more complicated makeup, especially if you use the waterproof kind.
However exhausted you might be always remember to store the package with the opening down. You don't want these towelettes drying up. If you have sensitive skin then you'll be happy to learn that these Beyond Belief Facial Cleansing and Makeup Remover Towelettes are alcohol free and moisturizing. Even if your skin is on the dry side, you won't feel that awful "pulling" sensation after using them.

"Fashion Is Foremost Inspiration"