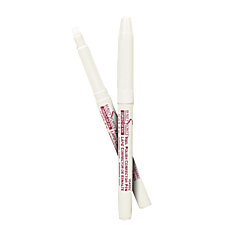 I'm right handed and I have to admit that I'm a tiny bit clumsy when I need to use my left hand to paint my right hand fingernails. Polish all over the cuticles isn't something new for me and since I prefer bold nail colors, you can see I have a problem.
If you're like me and your polish seems to go where it's needed and where it's not, you might want to consider a
Beauty Secrets Nail Polish Corrector Pen
. It is filled with acetone and has a little angled felt tip. If you misapply that awesome nail polish you'll just have to wait for it to dry and the rub it out with the tip of this pen. It will leave your manicure (or pedicure for that matter) looking salon perfect, as it should always be. If you are in the habit of painting you nails as you're leaving the house and don't give them time to fully dry before you're out the door, it can be carried in your purse for a quick touch up in case you made any minor mistakes.
This product is more efficient than dipping a q-tip in nail polish remover because it's more precise and it's always ready – no need to go messing with the bottle of nail polish remover after your nails are done and risk it spilling on you hand ruining all your hard work!
If you love french tips but don't want to use those little sticky guides, you can also do the tip by youreself and then clean up the line with this pen. After that, use a topcoat and you're done! It doesn't get easier.
If you have acrylic nails or you prefer not to use acetone for some other reason, there are similar pens that contain acetone free nail polish remover, they are just a little bit harder to find.
"Fashion Is Foremost Inspiration"
Micky