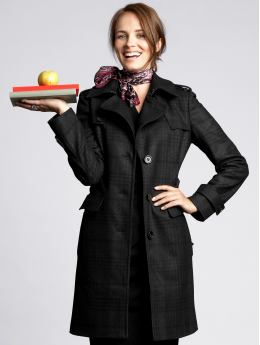 There are a few things I like about the cold weather months here in NYC. I love the browning of the leaves in the Fall and I love freshly fallen virgin white snow in the winter. However the one thing that truly inspire me is procession of beautiful coats. New York City is so amazing because of the vast array of wonderfully innovative looks you can appreciate while just simply walking down the street. I love looking at nice coats so much that if there ever were a Coat Club for discerning connoisseurs, I'd be the Chairwoman.
Right now I'm taken by the new
Banana Republic
lineup. Among favorites so far this season is the
Long plaid trenchcoat in Charcoal
pictured above. Beautifully chic, the classic trench freshens up this season in a checkered pattern that goes well with virtually anything. This
Long plaid trenchcoat
crafted in a high-quality wool blend to last you a lifetime. Gun flaps and shoulder epaulets give it a slightly menswear look, which is really in this season. Rounded collar, Button-front, and Front off-seam pockets round out some of the features. This coat is already fully lined so no need to worry about buying the linning seperate. This coat is listed on
bananarepublic.com
for $230. That's a pretty fair price to pay for a beautiful staple peice like this that will adorn your closet for years to come.
Click Here:
Bananarepublic.com
to read more about this coat.
"Fashion Is Foremost Inspiration"
Celeste