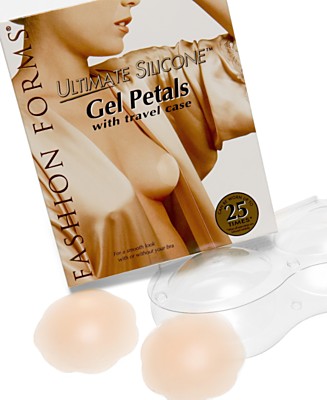 This season it's all about glamour. Glamour isn't necessarily about what dresses or tops you wear but how you wear them. Not every dress, outfit or item you wear will allow for the traditional bra and panties - especially on a night out! Fortunately Fashion Forms fully understands that and delivers to us a diva's emergency Glamour Kit.
Fashion Form's Glamour Kit is the newest and the best non-surgical, breast enhancing bras and bra accessories. This kit, which retails at $78, includes Dress and Lingerie Tapes, Ultimate Silicone Gel Petals, and Silicone Push Up Pads.
The tapes are used to hold the most daring tops in place while the dispenser makes it easy to cut and choose your size. The Ultimate Silicone Gel Petals are great for any occasion. They conceal and smooth your nipples. And the Silicone Push Up Pads give you the feminine, curvaceous look you've always wanted.
Fashionwithfifi.com is giving you a chance to win Fashion Forms' Glamour Kit!
Official Rules:

1) First you must be a member of the free to join "Fashion Circle" and be subscribed to Fashionwithfifi.com. Click Here: If you aren't already a free subscriber. Email subscriptions must be confirmed.
2) Next, you'll need to leave a comment telling us whether or not you've ever had a fashion emergency. If so, what was it exactly? Did your top spill out? Did you rip your pants? Ever spilled coffee on your blouse? Ever had your dress ride up? Tell us about it and let us know whether or not you survived it.
3) Shipping is Free for all participants in the U.S. Winner from a country outside of the U.S. would have to pay for shipping.
4) Contest runs from now - Saturday, October 24, 2009 through Friday, October 30, 2009. Winner will be announced on here on Fashionwithfifi.com on Saturday, October 31, 2009.
5) You must be 18 years or older to enter. Under 18 will need a parent's consent.
6) Shipping to P.O. Box is fine.



Enter now and good Luck girls!
"Fashion Is Foremost Inspiration"
Suzanna