If you are looking for the easiest way to paint your nails, it is probably going to be the "three step approach". Many people find that this method delivers smooth, even color without a lot of trouble. To use it, simply paint the center of your nail first, using a quick, firm stroke running from the center of the nail outward. Once this step is done, repeat it for both the right and the left sides of the nail. This three step process will give good results and help you apply nail polish with confidence.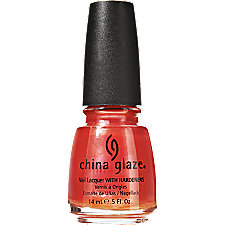 Try to make sure that when you do the sides of your nail, you don't go too far over. If you do, you may get polish on the skin that surrounds your nail. If this does happen, try to remove it right away by using a cotton swab dipped in a little bit of polish remover. After your first coat, let the polish dry a little bit and then repeat the process the same way for the second coat. This technique also works well for putting a base and a top coat on nails.
This week only, you can purchase any 2 China Glaze Nail Lacquers for only $10 at Sallybeauty.com.
"Fashion Is Foremost Inspiration"
Suzanna