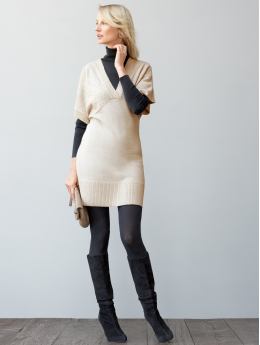 Fall Saturday afternoons are for boutique hopping, strolls through the park, site seeing, matinees, and sweater dresses. Sweater dresses can add chic sophistication to your fall look if done right. This Starburst sweater dress by Banana Republic
is just what the fashion doctor ordered to combat the "saturday mommy jeans" look. Designed in supersoft merino wool, the Starburst sweater dress
gets an instant lift from a unique starburst pattern and chic dolman sleeves. This dress is made out of 100% Merino Wool. Styling cues include ribbing at the neckline, sleeves, and hem. This dress is availible in both Oatmeal Heather (pictured above) and Black.
Add your favorite turtleneck and leggings to complete the look. "Click Here" to view more pictures and angles.
"Fashion Is Foremost Inspiration"
Willie D