Last night Fashionwithfifi.com was in attendance at Jay Alexander's (Miss Jay if you're nasty) book signing at the Barnes and Noble located in the Tribeca neighborhood of Manhattan. He was there to promote his new book, "Follow the Model; Miss J's Guide to Unleashing Presence, Poise, and Power.
"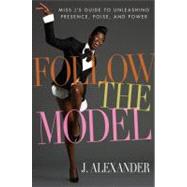 It was a pleasant surprise when Miss Jay arrived with two familiar Baby Phat faces, James Campbell and Kimora Lee Simmons' sweet but brief personal assistant Mallory, who are now employed by Miss Jay. The America's Next Top Model judge was warmly greeted by an anxiously awaiting crowd. The atmosphere was a mixture of young, old, hip, and fresh.
For this jovial, yet sassy Top Model judge, what you see on t.v. is exactly what you get in person. Miss Jay angled his head back, pursed his lips together and in a signature Wendy Williams welcome, greeted the crowd "How You Doin?!" style.
He gave a brief overview of his early fashion, childhood, and "working girl" experiences. "Don't give it away, at least get a hamburger out of the deal. It's called a corporation," exclaimed Miss Jay. The reading was filled with laugh-out-loud moments such as when he suddenly stopped speaking to quiz an audience member who was patting down her lace front wig in the second row.
But Miss Jay didn't depart without leaving behind fashion tips:
How to improve posture? "Feel comfortable in what you wear, be confident in yourself, and don't be afraid of experimenting – do what's comfortable to you," said Miss Jay.
Driving 101? "Don't drive with platform heels on, instead wear flats."
On fashion? "If you have to think longer than 15 minutes on what accessories to wear than your dresses are wrong."
How'd he get those sexy legs? "I walk a lot in heels."
Plus size fashion? "Big girls stay away from bright colors and satin!"
Manicures and Pedicures? "Busted up toe nails…no monkey paws please!"
Hairy situations? "If you're having under arm issues don't wear a strapless dress."
Sharing clothes? "Don't borrow a friend's clothes when she's a size 2 and you're a 22."
Denims? "Get good jeans – no muffin tops."
Using your boyfriend as a personal stylist? "Don't let your man dress you… let him dress you in his imagination."
He was even sweet enough to autograph books and show some love to his fans!
Former Baby Phat designer, Jerome LaMaar also made an appearance at the end to show his support. Glad to see that everyone's

doing well post Kimora.
You can purchase a copy of
Follow the Model; Miss J's Guide to Unleashing Presence, Poise, and Power
for $17.57 at
BiggerBooks.com
.
"Fashion Is Foremost Inspiration"