We had a bomby 65 degree day here in NYC yesterday. Strange when you consider that the Christmas Tree has already arrived down the street at 30 Rockerfeller Center. Stranger still were the fashion choices I saw on the street. Some women looked like they were caught off guard; adorning their regular heavy jackets and hats. For those women I'd recommend Channel 362 on Directv. Some had the presence of mind to check the forecast, but used the day to get another use of what looked like summer wear. For those ladies I'd suggest strict adherence to my fashion don't tip of the day: "Don't Wear Short Shorts After Labor Day In NYC". Every year we have several days where the tempeture dramitcally jumps 30 or 40 degrees from the previous day, here in the north east. So you're going to have to prepare. Think something sexy, think Chic, think Sassy, Then picture the look above. I'm calling it "Fall Into Sassy."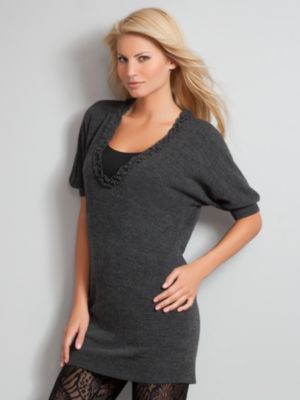 Start off the look with this,
Grey New York & Company Women's Ruffle Tunic Sweater.
Gentle ruffles and subtle beading at the neckline give this soft sweater a pretty finish. I love V-neck for fall, and the three-quarter ribbed dolman sleeves is a nice touch. This sweater hits below the hip and can be worn as a dress.
NY & Company
sells it for
$39.95
and does qualify for the
Buy One Get One 50% Off sale.

The legging trend gets a dressed-up edge with this Black New York & Company Women's Comfortzone Lace Leggings
- They're perfect for matching with your favorite dresses. This is an all lace legging with elastic waist. The mid rise sits low on waist. NY & Company sells it for $24.95.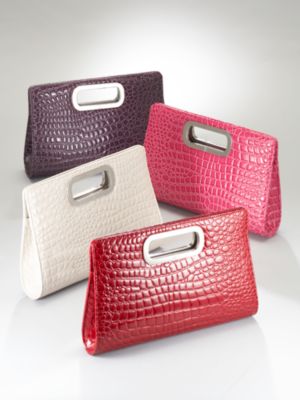 This look is versitle enough to wear while to the mall or to a party. This chic New York & Company Croc-embossed Clutch Handbag
is the perfect accent and finishing touch for a going out look. It features a metal cutout handle, Inside snap closures, and zip pockets. This clutch measures an apmple 12-1/2 x 8 x 2 inches. That's enough room to carry a Mini Makeup Kit, Smart Phones,
and other accessories. It sells for a cost friendly $26.95.










Add a luxe quality to this outfit with these sassy Black Diana Boots
from Baby Phat. Diana features black animal friendly material with shiny detail. This open toe ankle boot features a size zipper with baby phat button logo buttons at the heel. A sexy 4 ¾ inch heel and ¼ inch recessed platform completes this daring look. Get it from Heels.com for $89.99. Sizes and availibility are limited.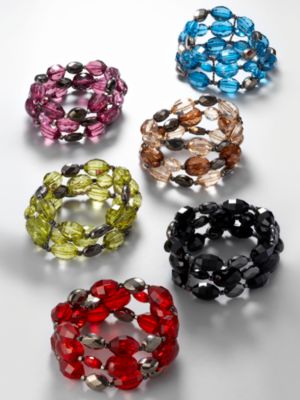 You'll need to add some flare and treasure to complete this look. Start by adding one of these Bubble Bead Stretch Bracelets in either Black, Blue, Green, Purple, Red, or Brown.
The fun burst of color (or sleek touch of black) adds rich style to the whole look. These Triple-strand stretch bracelets feature faceted, multi-shape stones (3-19 mm). NY & Company sells them for $16.95 and they qualify for NY Company's Buy One Get One 75% Off Jewelry Sale.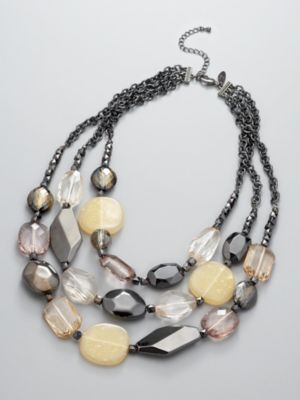 Add on some more flare with this bold style. It will work great with this look or with a classic suit or crisp white shirt. New York & Company's City Style Triple Strand Necklace
features chunky faceted beads (14-39 mm) and small, geometric beads on cable chains, and Lobster Clasp. The length measures: 19-3/4 inches plus 3 inch extender chain. It sells for $24.95 and it als qualifies for NY & Company's Buy One Get One 75% Off Jewelry Sale.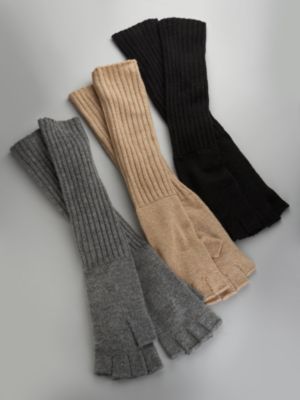 For sassy visual effect or just in case the weather suddenly turns back to normal; consider these Fingerless Knit Gloves.
They're the perfect way to stay warm and still be able to text your friends. These fingerless gloves solve the problem in boho-chic style with long, ribbed cuffs. Black works best for this look, but brown is a great option for the adventurous amongst us. NY & Company sells them all for $14.95.








You may want to add a cardigan, on cool days. In total you can recreate my entire look including Sweater, Shoes, Gloves, Jewelry, and leggings for $238.69 without our coupons. But add Coupon Code: 1650 and swap out the Baby Phat boots with one of your own and you're looking at only $110 for everything with the 75% Jewelry discount.

"Fashion Is Foremost Inspiration"
Willie D