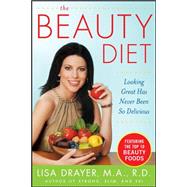 Drayer is also a nutrition columnist and contributing editor for Women's Health, and she has appeared in several national magazines and newspapers, including ELLE, Fitness, Marie Claire, Woman's Day, McCall's, Family Circle, Bon Appetit, Seventeen, Natural Health, Vegetarian Times, People's Your Diet, The Wall Street Journal, The New York Times, and the Chicago Tribune. Watch the Video below then "Click Here" to read
The Beauty Diet: Looking Great has Never Been So Delicious.



We have all heard the so-called simple solutions to our beauty problems, but today, Lisa Drayer, author of The Beauty Diet is here to debunk some of the most common beauty myths that get us every time.


"Fashion Is Foremost Inspiration"