In Laurie Graff's novel, The Shiksa Syndrome
, the main character goes through an extreme makeover to help her meet Mr. Right. Now it is Laurie's turn to be transformed. She is getting a makeover from celebrity stylist Ramy. Will she like her new look?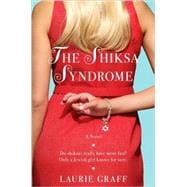 So does it really take a
shiksa
to get a Jewish man? Jewish Aimee Albert inadvertently finds out for herself. After she breaks up with her non-Jewish boyfriend, her family arranges for a makeover. Gone is the curly dark hair and glasses; in comes sleek, straight red hair and green contacts. When Aimee meets her non-Jewish friend Krista at a kosher wine tasting for Jewish singles, she meets handsome Josh Hirsch. Josh is under the impression that Aimee is not Jewish, so Aimee encourages this misconception, pretending to be a Protestant from Scranton instead of a native Jewish New Yorker. The lie begins to consume her as she removes every Jewish element from her apartment and her life. She knows this is wrong, but she is approaching 40 and must have a Jewish husband. But is it worth abandoning her Jewish roots to attain him? Graff's latest is by turns funny and poignant as she explores religious identity and modern relationships and finds that sometimes Mr. Wrong may be more right than Mr. Right.
-Source: Booklist-
"Fashion Is Foremost Inspiration"