I always had this idea that pregnancy was just a really, really long waiting period before the biggest event of your life. I never thought about what I would do during pregnancy, only about everything I would do once the baby arrived.

First, my roommate introduced me to Babymoon.com. It's a pre-birth vacation that expecting mothers and their significant others will often take during the second trimester to enjoy some quiet time. Why had no one thought of this fabulous idea sooner?? What better way to celebrate the coming of your little bundle of joy than on a vacation??

And then there are the maternity clothes! Finally, we no longer have to suffer with the horrible fashion our poor mothers were forced to wear. I still shudder every time my mother describes the pants with elastic panels. Fortunately, there is a plethora of retailers who make stylish maternity clothes so women can still look fashionable and feel great about themselves during one of the biggest changes in their lives.


At Crave Maternity
you can find all the latest trends in fashion at really reasonable prices. They have a great selection of trousers and what's even better, each pair is under $100!

The Button Front Belted Mac, for $142.00, is one of my absolute favorite picks from this site. Available in a gorgeous light green, this flattering trench coat hits about mid-thigh and will quickly become your wardrobe staple in cool weather.
I also love the Essential Asymmetric Cardigan, for $95.00, because it looks like a sweater you could just about live in every day! It's a great piece for layering and it's versatile enough to wear with a pair of jeans or even a cute dress!


Michael Stars is a good source for basic, comfy t-shirts and I also found this amazing Maternity ¾ Sleeve Vee Neck Dress. It's flattering, black, and $80.00…what's more to love? Made from 50 percent cotton and 50 percent nylon, this dress has all the potential to become your new LBD.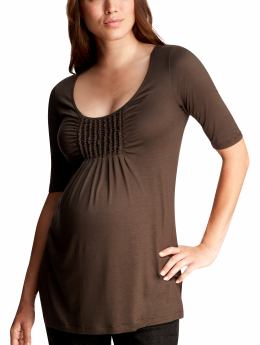 The Gap's maternity collection has some really cute cotton tops that are a great substitute for your basic, everyday t-shirt. This Gap Maternity: Scoopneck ruffle top - chocolate chip is only $24.50 and is available in chocolate chip and mistletoe. The delicate, ruffled detail around the bust makes this shirt a lot more interesting than your typical tee!

Even though the thought of having little tykes of my own is so far removed from my realm of possibility, all these fantastic perks are definitely making the idea look much more enticing!



"Fashion Is Foremost Inspiration"
Erin