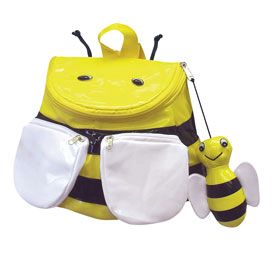 It's time to go back to school and that always goes hand-in-hand with back-to-school shopping
. Although updating the wardrobe is a back-to-school must
; making sure you have the right backpack is a back-to-school essential. Not only will your backpack keep books, papers, electronics and school supplies in their place - some of the latest styles and designs have multi-purpose features to keep you organized and help you make the grade. Read on for an in-depth guide on how to buy backpacks for back-to-school
and beyond that's sure to take you to the top of the class.
Durability: Look for backpacks
that are constructed well and are from a recognized brand. You'll find zippers that come off the track and seams that fray are common problems with low quality book bags
. Pictures and decals can crack and wear off so try to stay away from those if you're looking for a bag
that's built to last.

Comfort: Wide, padded straps on backpacks
help kids carry heavy loads. Messenger bags and one-strap backpacks are not recommended when it comes to back safety. Wheels are good for kids that have a lot of heavy books and/or must carry their bags long distances. But keep in mind that wheels add weight overall and the folding handles of rolling backpacks
can be uncomfortable on the back.

Size: Size is probably the most important thing to look for when choosing a backpack
. The bag should be no larger than the child's back
. It should rest 1-2 inches below the shoulders and no more than 4 inches below the waistline (note: the waistline is level with the bellybutton). Many backpacks designed for preschoolers are not even large enough to hold a folder without bending it, and most preschoolers are sent home with big art projects. Messenger bags and laptop backpacks
are often narrower and may not hold all the essentials. Look for backpacks that are roomy and have extra compartments for school supplies, electronics and other useful features.

Useful Features: Look for added extras that will actually be useful, such as pockets, key chains, lunch kits, water bottle holders, cell phone holders, etc. (But keep in mind there is such thing as too many pockets
when a kid is looking for misplaced lunch money.)

School Specifications: Some schools have rules against wheeled backpacks
while some require clear backpacks
, so check your school supply list.
"Fashion Is Foremost Inspiration"
- Yana Simone