This year when choosing a birthday gift for a guy, it doesn't have to be difficult or time consuming. Guys are pretty simple and easy going: just think of something he'll use often such as a phone, electrical shaver, or ipod. Monica perfers purchasing something that has meaning. It has to be something useful and for him to enjoy with others. She recommends purchasing a Wii Video Game System
, or a pair of tickets to a concert or major sporting event!
She may sound really old fashioned, but Micky still believes that one of the most elegant gestures a man can make is to reach inside his pocket and lend a lady a pen to take a quick note. Micky always carry around a small notebook but she's also prone to forgetting to bring a pen to write with. A nice pen is not only useful to lure in the opposite sex but its especially handy if he's a businessman. For instance, if you're giving a pen to your sweetheart, you can bet he'll remember you with love every time he uses it to sign an important contract and the same goes for any men in your family. On the other hand, if you're thinking of giving a pen to your boss, you'll be giving him something that he can actually use - keeping it strictly work-related and appropriate. He'll consider your gift when writing up your annual performance evaluation. If the guy you're giving the gift to is still in school, a pen is also something he'll use everyday. Maybe a less expensive but modern and elegant ballpoint pen would be better pick in this situation.

Micky has seen pens that cost more than a car, but since that's way out of most budgets for gift giving, here are a couple of ideas for you.

For a less expensive pen that looks so great no one will ever know its on sale, you can go for a Zebra Jimnie Clip Ballpoint Pen
. For $18, this retractable ballpoint pen delivers neat, accurate lines with smooth flowing ink. What more can you ask for?

If, on the other hand, you're willing to spend a little more, Micky suggests getting a beautiful Waterman Harmonie Chrome Fountain Pen in Blue and Grey
. You can never go wrong with this classy model. Its not too heavy, so writing with it is easy. Fountain pens require a little getting used to, but it's worth it.

Do you cringe every time you see a well-dressed guy wearing a hideous pair of sunglasses? For Erin, there are few things more devastating in life. Seriously, Erin has an irresistible urge to yank him into the nearest Sunglass Hut and give him an immediate update!

Instead of leaving these innocent and unsuspecting fellows prone to her irrational urges, give your favorite guy a gift he will definitely thank you for. This season, Erin's favorite shades are Ray-Ban's Clubmaster
. They have an interesting, retro shape that will flatter any face's shape. Available in classic black and tortoise as well as eight other colors, such as Cobalt Blue and Red Marble, there's bound to be a pair to suit every guy's style. These glasses
, at $139.00, come with Ray-Ban's infallible legacy of superior quality and uses the best technology to protect your eyes from UV radiation.
Give your guy a timeless classic that he'll be able to appreciate for years to come. It's one piece of fashion advice he'll surely accept


Protect your favorite guy from skin irritations and soothe him over with the gift of Korres!
He'll enjoy the Absinthe Heady Shave Cream
. This luscious cream will help his razor glide - ensuring a deep and comfortable shave. As a brushless non-foaming preparation, Absinthe shave cream is formulated at a milder pH than lathering creams, thus preventing skin roughness. Try pairing the shaving cream with Korres' Marigold and Ginseng After Shave Balm
. This works as a perfect light-textured balm for after-shave care for men. The Ginseng extract will enables delivery of water and nutrients to the skin, thus improving its tonicity and firmness. Active Aloe and Pro-vitamin B5 will soothe his post-shave rashes while helping to moisturize his skin.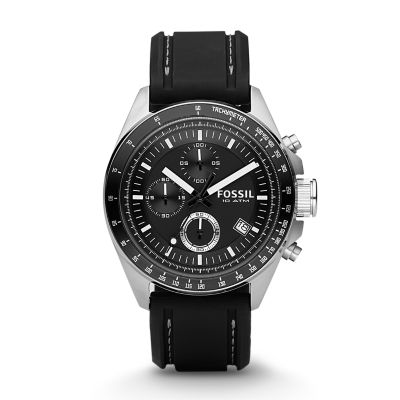 Time is the most precious thing in the world – and what better way to value the precious moments you spend with him than with a stylish timekeeping toy? Whether he's a frequent traveler, executive, or hunter any man can use a great wristwatch. If you need a reasonably priced men's gift that's good for all occasions try Fossil's Chronograph Black Dial Watch
. Classic in any context - this sporty, yet sophisticated $95, black Chronograph will seamlessly take him from work to the gym to an evening out with you in no time.

"Fashion Is Foremost Inspiration"
Monica, Micky, Erin, Suzanna